The Best Paint Protection Service in Chagrin Falls, OH
Your One-Stop Shop for vehicle protection!
Introducing Ceramic Pro Cleveland, your gateway to exceptional auto detailing, window tinting, and paint protection services in Chagrin Falls, OH. Nestled in the dynamic heart of Chagrin Falls, we offer an extensive array of high-quality services—from groundbreaking ceramic coating to exhaustive vehicle detailing. Our team of seasoned professionals is committed to delivering a service that goes beyond your expectations.
The minute you step into our cutting-edge facility, you'll immediately comprehend why we're favored by many. Our devoted experts consistently strive to ensure every client enjoys an unparalleled car care experience in Chagrin Falls.
At Ceramic Pro Cleveland, we acknowledge that your vehicle isn't just a means of transportation—it's an investment and a reflection of your personal style. Thus, we provide a diverse range of top-tier services designed to meet your unique needs. Whether you require paint protection, ceramic coating, window tinting, or car detailing, we've got you covered.
Preserve Your Car's Beauty in Solon with Our Paint Protection Film!
In a vibrant city like Chagrin Falls, protecting your car from potential damage is vital. Our paint protection film is specially designed to shield your car from scratches, chips, and Ohio's harsh weather conditions. This protective layer preserves your car's immaculate finish, ensuring it keeps making heads turn on the streets of Chagrin Falls.
Our paint protection film is not just a protective layer—it's a long-term investment in maintaining your vehicle's aesthetics and value.
Ideal for those seeking essential protection for their vehicle's most vulnerable parts.
MIRRORS, HEADLIGHTS, & BUMPERS
Enhance your protection with coverage for mirrors, headlights, and bumpers.
MIRRORS, HEADLIGHTS, BUMPERS & HOOD
Comprehensive protection covering the mirrors, headlights, bumpers, and hood.
The ultimate vehicle shield offering all-around protection against scratches, stone chips, and more. Protect your whole car from any road debris.
Elevate Your Car's Defense in Solon with Nanoceramic Coating!
Our ceramic coating service provides a cutting-edge solution for car owners in Chagrin Falls. Unlike traditional coatings, this nanoceramic protective layer bonds with your vehicle's paint, forming a resilient surface that resists dirt scratches and maintains your car's showroom shine. With our ceramic coating, damage from environmental factors and road grime will become a thing of the past—perfect for daily drives around Chagrin Falls.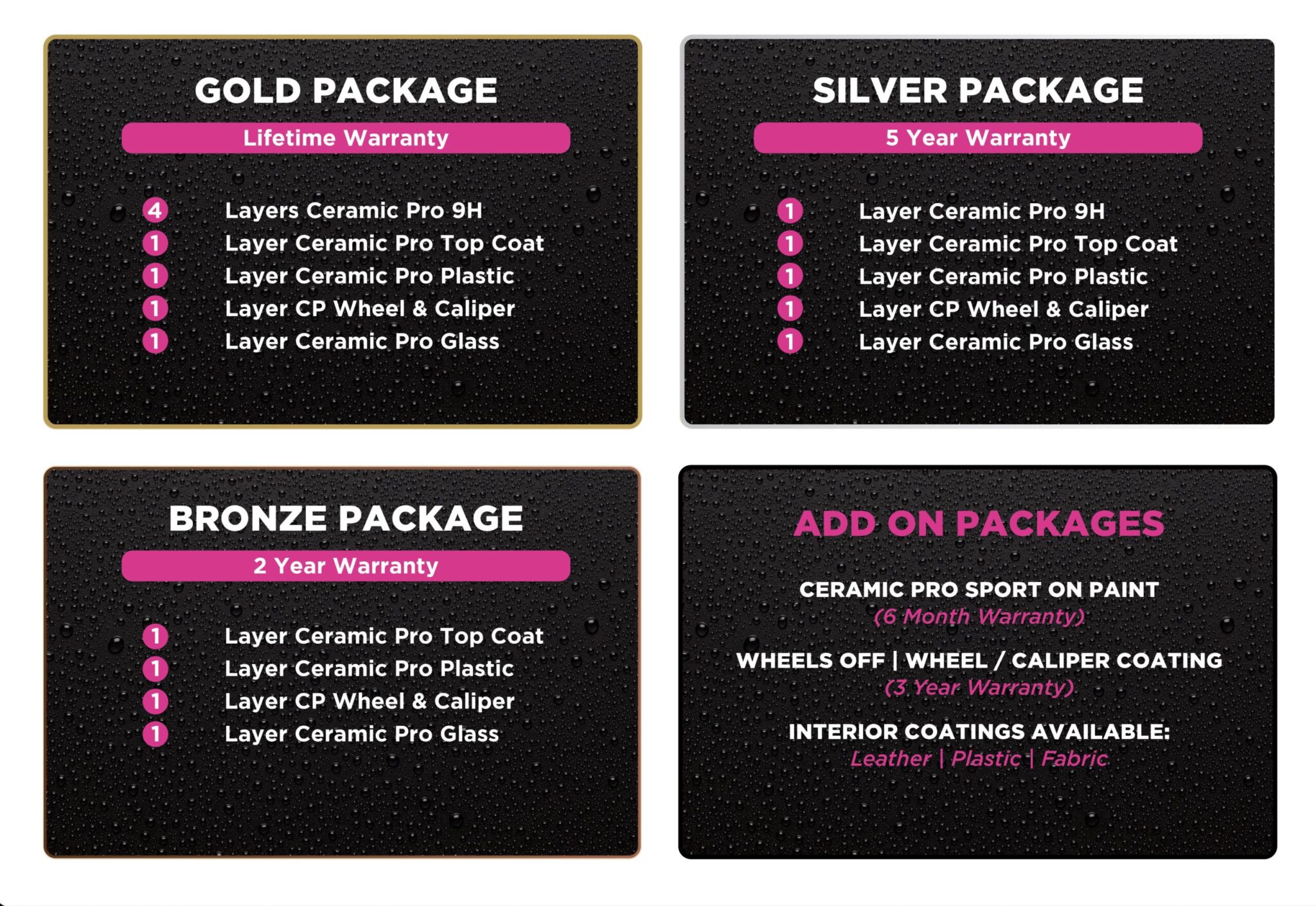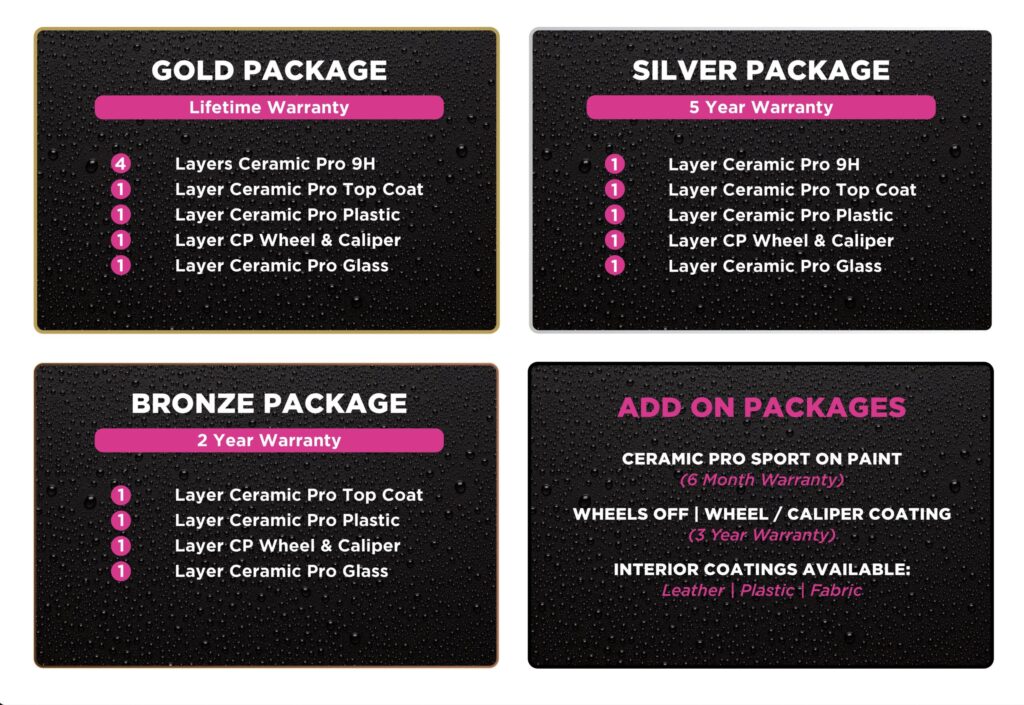 Explore our Ceramic Coating packages
WE Offer Two ION Installation Packages
ION BASE
On all paint, plastics & lights
ION TOP COAT
On all paint, plastics & lights
CP – WHEEL & CALIPER
On all wheel faces
ION BASE & ION TOP
On all paint, plastics & lights
CP – WHEEL & CALIPER
On all wheel faces
Beat the Sun in Style with Our Solon Window Tinting!
Keep cool and stylish on bright Chagrin Falls days with our professional window tinting service. Our premium tints not only elevate your car's aesthetics, but they also offer essential UV protection, reducing heat and glare for a comfortable driving experience. Moreover, the added privacy allows you to park anywhere in Chagrin Falls with confidence.
Check out our window tinting services for unparalleled privacy, UV protection, and style.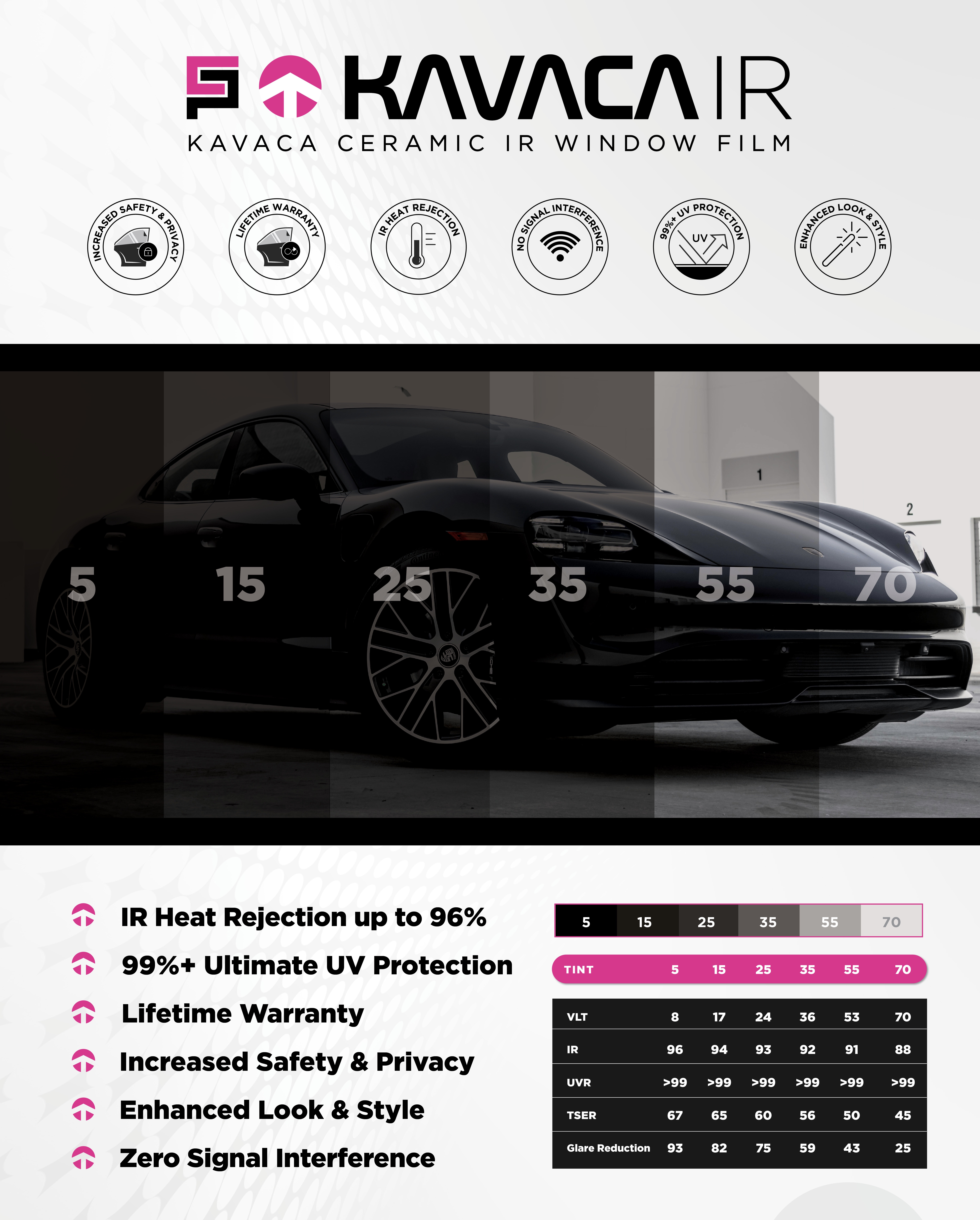 In Chagrin Falls, we value the importance of precision, which is precisely what we bring to our car detailing service. Utilizing modern techniques and superior products, we provide a deep clean that goes beyond a simple wash. From the interior to the exterior, we'll leave your vehicle spotless and refreshed, enhancing every drive around Chagrin Falls.
Our car detailing packages cater to a variety of needs
Fast and efficient service for those short on time.
Comprehensive exterior care for a sparkling finish.
Thorough inside-out care for a meticulous clean.
The ultimate hand wash using Ceramic Pro products for an unmatched shine.
We bring our exceptional detailing services to you for maximum convenience.

Ceramic Pro Cleveland in Chagrin Falls, OH, is more than just a service provider—we're an integral part of the community. We are committed to delivering results that exceed your expectations. Visit us and experience the difference firsthand. You—and your car—will be delighted.
However, our excellent services are just the beginning. At Ceramic Pro Cleveland in Chagrin Falls, OH, we strive to build solid relationships with our clients. We listen to your needs, provide personalized advice, and guarantee total satisfaction with our work. Your satisfaction is our ultimate aim, and we won't rest until we've achieved it.
So, what are you waiting for? Find out why we're a trusted name in vehicle protection and detailing in Chagrin Falls, OH. Experience the exceptional service, remarkable results, and warm, great service that only Ceramic Pro Cleveland can offer. We eagerly look forward to serving you!
The best way to protect your investment!