Leading Vinyl Wrap Service in Cleveland
VINYL WRAPs in CLEVELAND, OH
Mr. Detail offers a wide selection of color change vinyl wraps and finishes to help transform your car to your own unique style. We offer hundreds of colors and finishes ranging from simple gloss white to color shift films. Vinyl wrap is a great way to fully change the color of, or to accent your vehicle by using it on hoods, trunks, roofs, bumpers, etc. Your imagination is your only limit when it comes to these custom vinyl wraps. This is a great modification for Tesla owners due to the limited colors offered by the factory and chances are you've seen a vinyl wrapped Tesla on the road before!
WHAT IS VINYL WRAP?
Vinyl wrap for vehicles is a thin, flexible film similar to that of a sticker. Once bonded to your vehicle, the vinyl can retain its quality and finish for up to 5 – 7 years. Finding the correct supplier is crucial, as the quality of film changes depending on manufacturing processes. Because of this, we use only name-brand films such as 3M, Avery and Orafol to name a few. Cheap vinyl has every possibility to damage your paint, remove clear coat, or fail/fade quickly once on the car.
ARE COLOR CHANGE WRAPS CHEAPER THAN PAINT?
In most situations a quality color change wrap will be much less expensive than a quality paint job. However, there will always be scenarios where that is not the case. Specific wrap colors (color shifting, pearlescent, high-flake) and wrap finishes (chrome, satin) come at an increased cost when compared to simple gloss colors.
Not sure what your idea will cost? Give us a call and we'll happily walk you through options, pricing and samples – no appointment needed!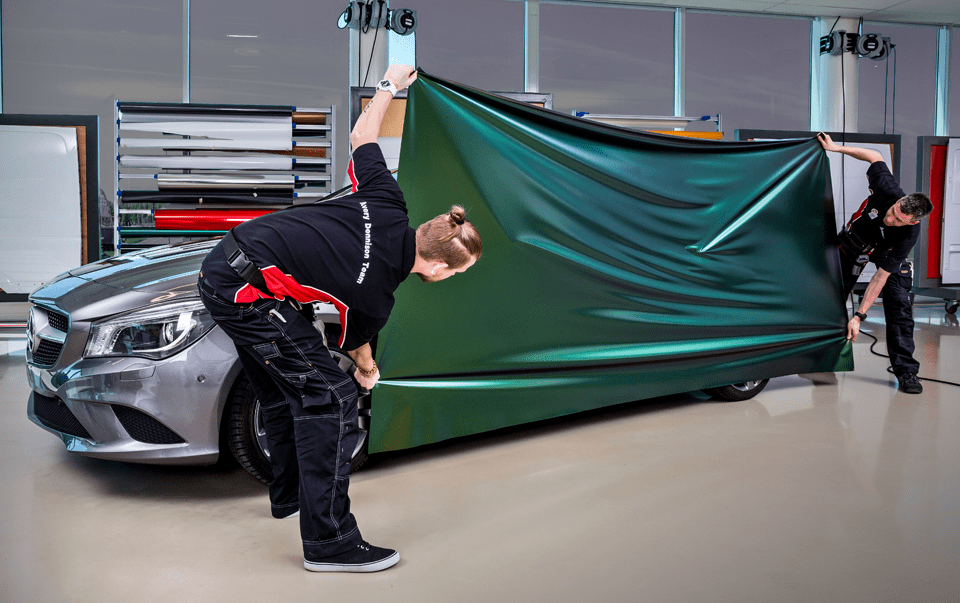 CAN YOU WRAP A NEW OR LEASED VEHICLE?
Yes, absolutely! Applying and removing vinyl wrap on a new car is completely safe and does not void any type of vehicle warranty. In most cases, leasing companies even prefer it because the vinyl wrap helps protect the paint from minor scratching, chips, dings, etc.
WHY VINYL WRAP?
One-of-a-kind look, fully customizable by you
Thousands of colors and styles to choose from
Extremely cost effective when compared to paint
Protects your vehicle's paint from minor incidents
Helps maintain resale value
Vinyl Wraps Cleveland | Mr. Detail | 440.669.0587
Tired of your boring vehicle color? Looking to be unique, but you don't want to permanently paint your vehicle? Try a vehicle wrap! Our color change wraps offer the ability to protect your original paint and change the color and finish to unique colors available in matte, satin, metallic and glossy finishes!
Cars
Trucks
SUVs
Vans
Show Vehicles
3M 1080 Wrap Films
Avery SW900 Wrap Films
Oracal 970RA Wrap Films
Oracal Color Shifting
Avery Chrome Wrap Film
Hexis Wrap Films

The best way to protect your investment!