CERAMIC PRO WHEEL & CALIPER PACKAGE in cleveland
CERAMIC PRO WHEEL COATINGS
You wheels take more abuse than any other part or substrate on your car. In addition to the high-velocity revolutions of your wheels, brake dust is notorious for getting into all your wheels' cracks and crevasses and etching your calipers. The Ceramic Pro Wheel and Caliper Package is an add-on to any Ceramic Pro package, and it's an excellent investment into the life of your tires. We take your wheels off, clean and decontaminate the entire surface, and then coat your wheels and calipers with Ceramic Pro Wheel and Caliper. Where this product particularly shines is that, after being coated, the self-cleaning effects of ceramic means that it becomes incredibly easy to wash your wheels and calipers in the future. Brake dust comes off easily with just soap and water, and you don't have to use expensive specialty cleaners.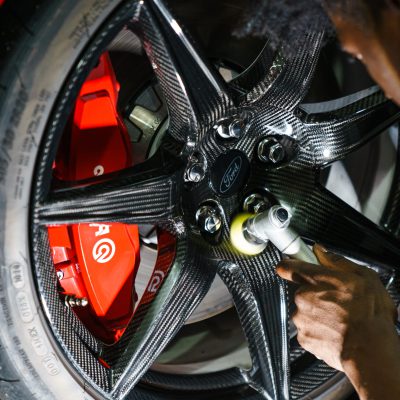 Removal of all four wheels
Steam cleaning of wheels and calipers inside and out
Ceramic Pro Wheel & Caliper applied on all exterior wheel surfaces
Ceramic Pro Wheel & Caliper applied to calipers

The best way to protect your investment!