The Best Paint Protection Service in Solon, OH
Your One-Stop Shop for vehicle protection!
Welcome to Ceramic Pro Cleveland in Solon, OH! We're your local experts for all things car protection and detailing. Nestled in the heart of Solon, we take great pride in serving our community with a wide range of top-quality services. Whether you need paint protection, ceramic coating, window tinting, or car detailing, our team is ready to deliver.
From the moment you step into our state-of-the-art facility, you'll experience the difference that sets us apart from the rest. Our highly trained and dedicated team is passionate about what they do and is committed to providing you with the best car care services in town.
At Ceramic Pro Cleveland, we understand that your vehicle is more than just a mode of transportation—it's an investment and a reflection of your personal style. That's why we offer a wide array of top-quality services tailored to meet your unique needs and preferences. Whether you're looking for paint protection, ceramic coating, car window tinting, or car detailing, we've got you covered.
Preserve Your Car's Beauty in Solon with Our Paint Protection Film!
In the bustling town of Solon, it's crucial to protect your car from potential damage. That's where our paint protection film comes in. This protective layer shields your car from scratches, chips, and the harsh Ohio weather, preserving your vehicle's pristine finish. With us on your side, your car will continue turning heads on Solon's streets.
Our paint protection film is a game-changer. It's not just about maintaining that new car look—it's about investing in your vehicle's long-term aesthetics and value.
Ideal for those wanting basic protection for the most vulnerable areas of their vehicle.
MIRRORS, HEADLIGHTS, & BUMPERS
Take things up a notch with coverage for your mirrors, headlights, and bumpers.
MIRRORS, HEADLIGHTS, BUMPERS & HOOD
Extended protection covering the mirrors, headlights, bumpers, and hood.
The ultimate shield for your car, offering full-body coverage against scratches, stone chips, and more.
Elevate Your Car's Defense in Solon with Nanoceramic Coating!
Our ceramic coating service is a game-changer for Solon's car owners. This isn't just any coating – it's a nanoceramic protective layer that becomes one with your car's paint. The result? A resilient surface that repels dirt resists scratches, and maintains your car's brand-new look. No more worrying about the elements or road grime damaging your car's finish. It's the ultimate defense for the everyday drive around Solon.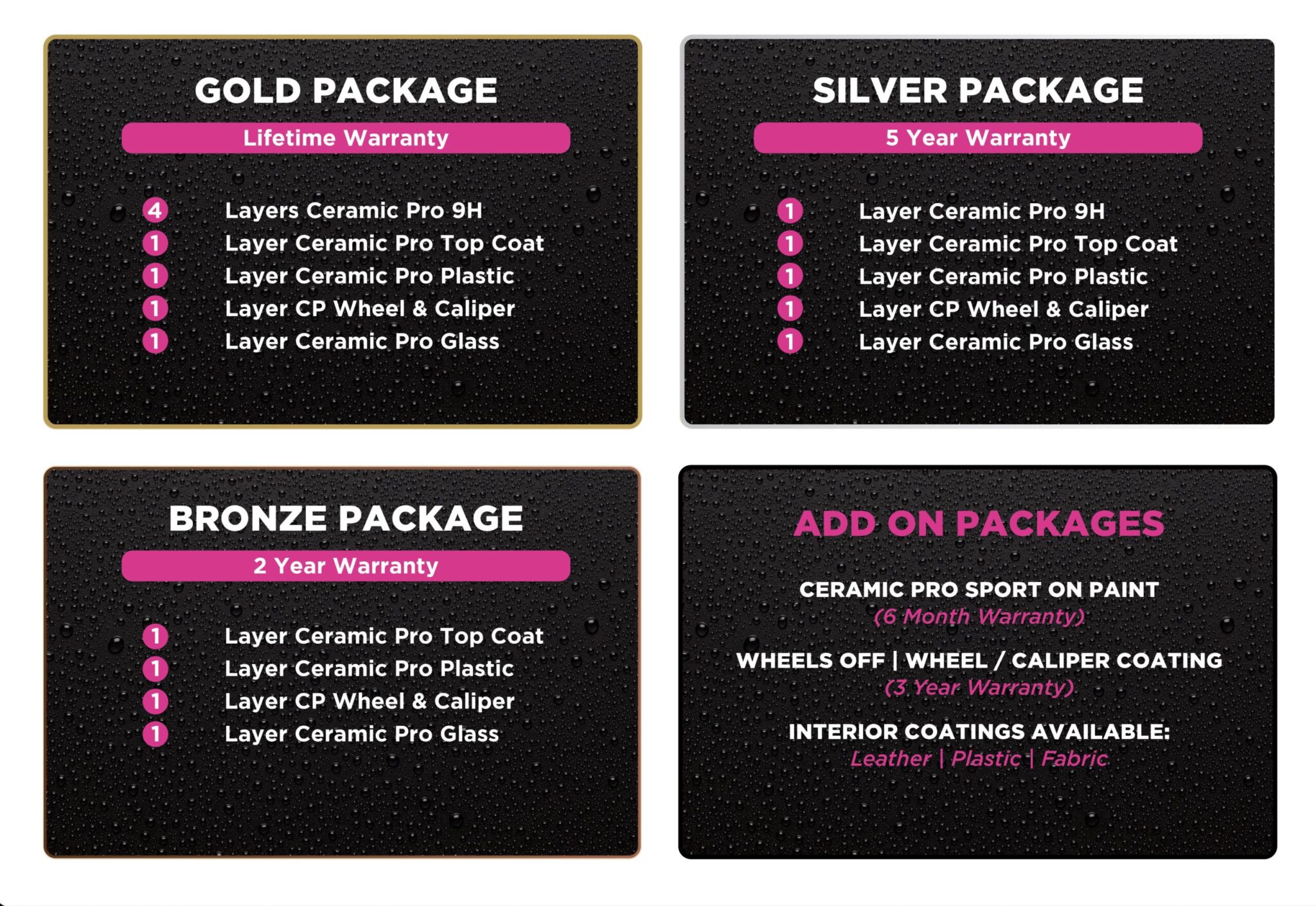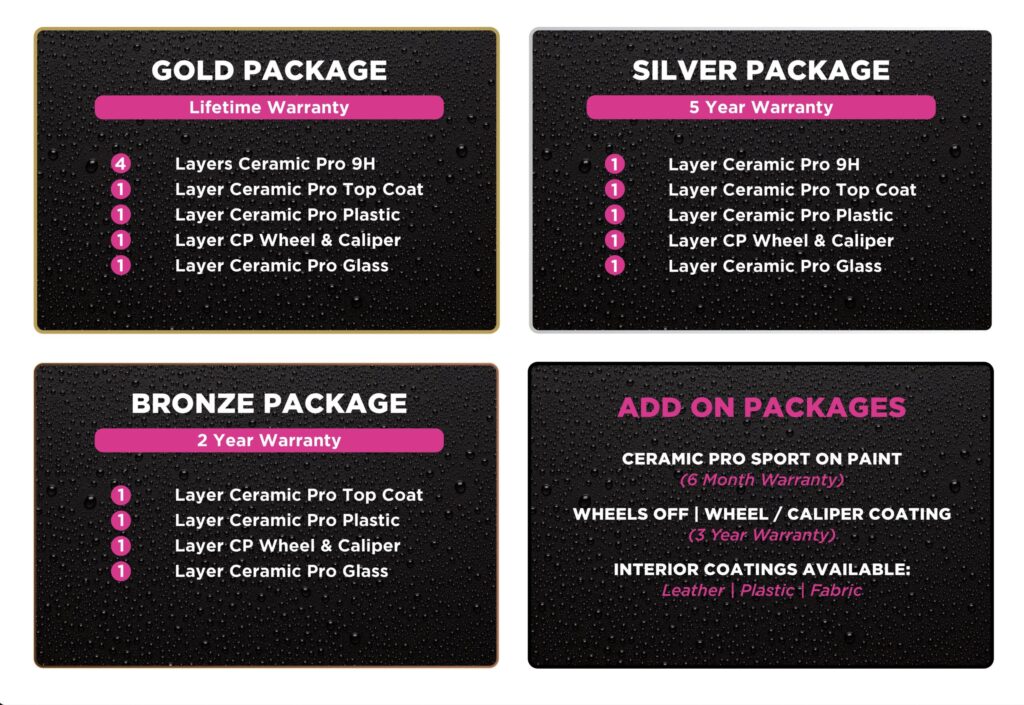 Experience the power of our Ceramic Coating packages
WE Offer Two ION Installation Packages
ION BASE
On all paint, plastics & lights
ION TOP COAT
On all paint, plastics & lights
CP – WHEEL & CALIPER
On all wheel faces
ION BASE & ION TOP
On all paint, plastics & lights
CP – WHEEL & CALIPER
On all wheel faces
Beat the Sun in Style with Our Solon Window Tinting!
Stay cool and stylish on Solon's sunny days with our professional window tinting service. Our high-quality tints not only enhance your car's appearance but they also provide valuable UV protection, reducing heat and glare for a comfortable driving experience. Plus, with added privacy, you can feel secure wherever you park in Solon.
Enhance privacy, block harmful UV rays, and add a touch of style with our window tinting services.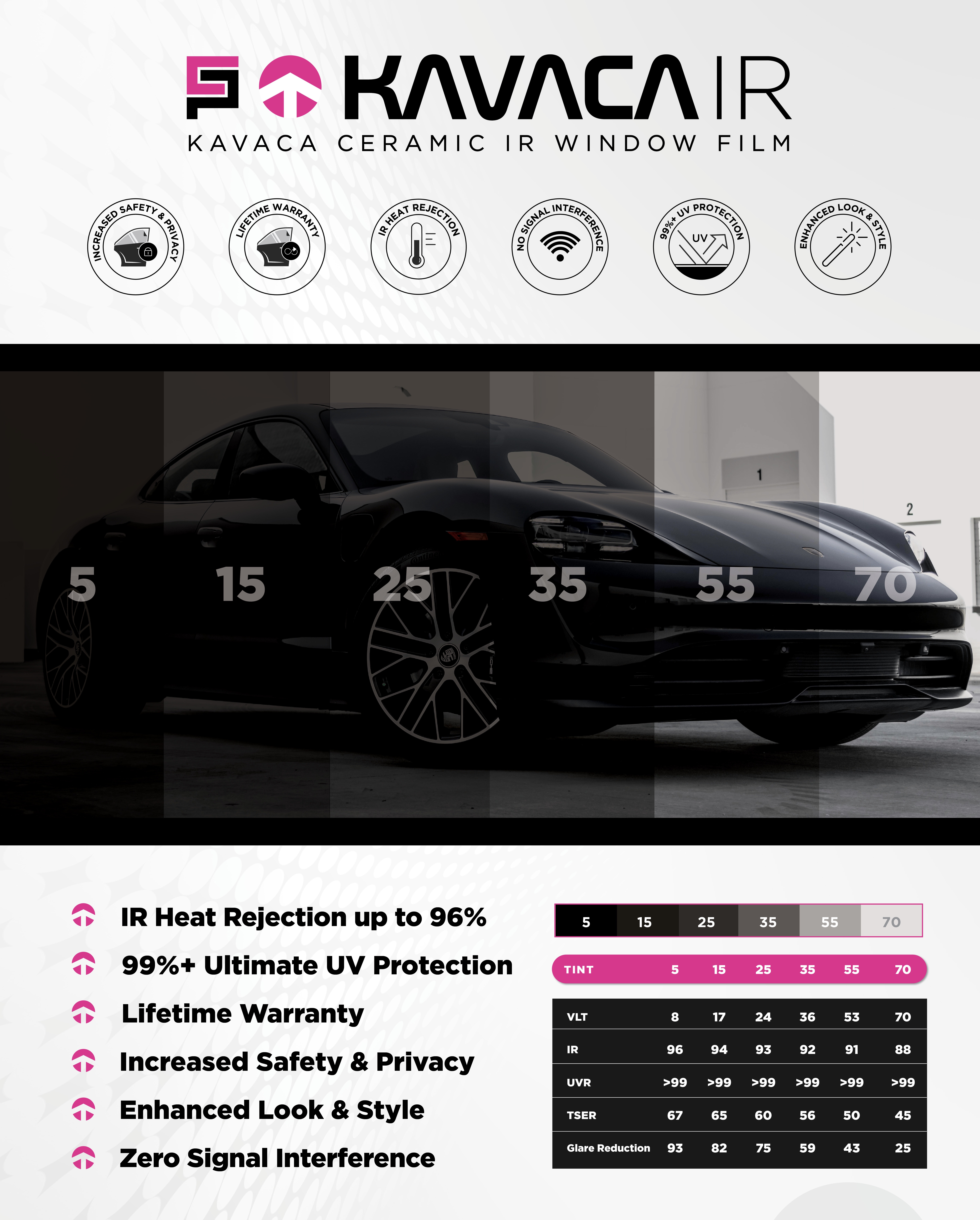 In Solon, we know the value of hard work and attention to detail – and that's precisely what we bring to our car detailing service. Our team uses the latest techniques and top-tier products to deliver a deep clean that goes beyond a simple wash. From the interior to the exterior, we'll leave your car spotless and fresh, making every drive around Solon a joy.
Immerse yourself in the world of professional car detailing with our variety of packages
All-encompassing outside care for a sparkling finish.
Quick and efficient service for those short on time.
Inside-out care for a comprehensive clean.
Experience the ultimate hand wash using Ceramic Pro products for an unrivaled shine.
Convenience at its best. We bring our top-notch detailing services to you. Whether it be interior or exterior detailing services, we've got you!

Here at Ceramic Pro Cleveland in Solon, OH, we're more than a service – we're part of the community. We're committed to delivering results that not only meet but exceed your expectations. Come by and experience the difference for yourself. Your car – and you – will be glad you did.
But we don't stop at just offering excellent services. At Ceramic Pro Cleveland in Solon OH, we believe in building strong relationships with our customers. We take the time to listen to your needs, provide personalized advice, and ensure you're completely satisfied with our work. Your satisfaction is our ultimate goal, and we won't rest until we achieve it.
So, why wait? Come and discover why we are a trusted name in car protection and detailing in Solon, OH. Experience the exceptional service, outstanding results, and warm, friendly service that only Ceramic Pro Cleveland can offer. We look forward to serving you!
The best way to protect your investment!