Top Rated Clear Bra Service in Cleveland
CLEAR BRA CLEVELAND | KAVACA
Paint Protection Film, also referred to as PPF or Clear Bra, is a see-through polyurethane film that covers your vehicle and is considered the best product on the market for rock-chip protection.
At Mr. Detail, we use Ceramic Pro's very own KAVACA Paint Protection Film, which utilizes the same nanotechnology found in their world renowned coatings. This combination of nanotechnology, superior materials, and stringent quality control provides our customers with the highest-quality, longest lasting PPF found on the market. Outperforming common paint protection films brands like: XPEL, SunTek, Avery Dennison and more.
We are Cleveland's best shop for PPF installation and know you'll drive away impressed. During installation, we use a vinyl plotter to cut the clear bra to fit your exact vehicle. Having a plotter means that we never get near your paint with an Exacto knife or razor blade. All edges of the film are tucked under your car's panels for a seamless look with great protection.
We offer several packages for Clear Bra ranging from simple front-ends to full-body coverage, and are always happy to discuss custom options. PPF is commonly paired with our Ceramic Pro coatings for the ultimate level of protection and aesthetic.
Mr. Detail | Clear Bra Cleveland | 440.669.0587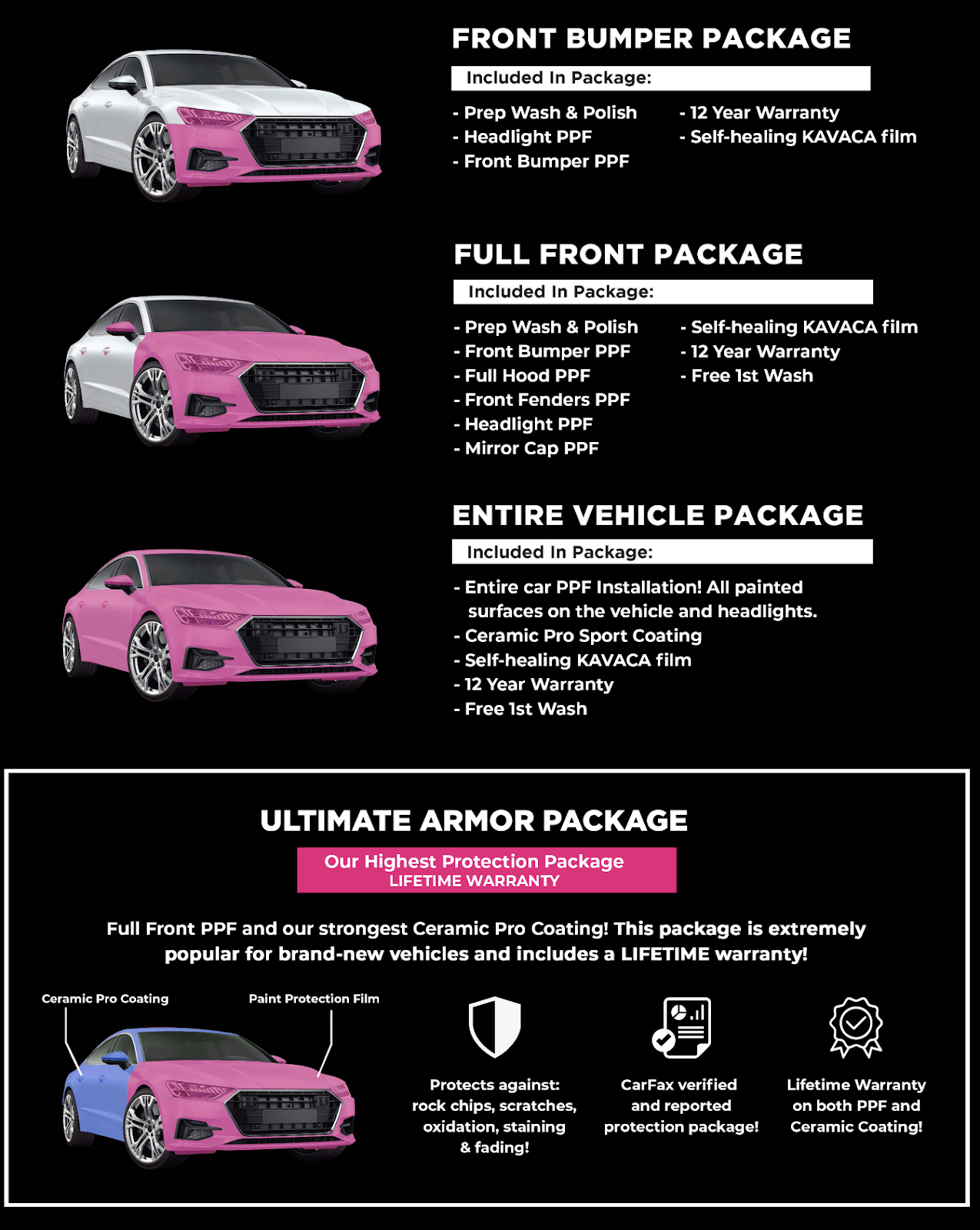 KAVACA PPF WITH LIFETIME WARRANTY
Clear Bra Cleveland- KAVACA PPF
Clear bras of the past were very noticeable once applied. Yellowing over time with a cloudy appearance when applied, often having visible lines on the vehicle. They were also known for "freckling" if hit with rocks, showing every impact spot on the film.
All those problems have been solved with a new generation of self-healing PPF. The new films are nearly invisible. Our professional installers are experts at recommending the right wrap package for the aesthetics and protection of your vehicle. We have several packages ranging from just the bumper all the way to the full vehicle and can be found listed above.
Our shop uses the Ceramic Pro's KAVACA paint protection films due to it's benefits. Each installation comes with a 1lifetime warranty against peeling, dimples, freckles, and yellowing. It has excellent self-healing properties and, if you want to change your film for whatever reason, the adhesive is easily removed without damage. Just like our window films, we always seek out the best products for our customers.
MR. DETAIL | CLEAR BRA CLEVELAND | KAVACA | 440.669.0587
BENEFITS OF PAINT PROTECTION FILM
Protects vehicle from road debris and damage
Exception clarity and bonding to vehicle paint
Superior scratch resistance
Up to a Lifetime Warranty available
Customizable options and removes without damage
FEATURED PACKAGE: LEVEL 3
Entire car ppf installation
All painted surfaces on the vehicle and headlights
Ceramic Pro Sport Coating
Self-healing KAVACA film
12-Year Warranty
Free 1st Wash
paint Protection Film PACKAGES
Not your father's clear bra: the new generation of paint protective film means protection from rock chips without compromising style.

The best way to protect your investment!